What Kills Toenail Fungus Instantly: Clearanail's Nail Fungus and Fungal Solution
Failed Toenail Fungus Treatments and Clearanail's Fast Solution for Fungal Nail
So, you're trying to kill toenail fungus, and nothing seems to work? It's a common problem. The condition can be a pain to eliminate, and toenail infections are not easily killed. But don't lose hope! This article discusses why common treatments like tea tree oil, creams or antifungal medications might fail, but a fast solution to eliminate toenail fungus is Clearanail's Fungal Nail treatment.
Clearanail uses ingredients that kill toenail fungus instantly, treats even stubborn fungal toenail fungus infections and allows your body to grow back healthy clear nails over time.
You've tried soaking your feet in tea tree oil or fungicide solutions without success, but what would happen if you could apply the fungicide solution directly to the nail fungus under your toenail? This way, the solution can better address the toenail fungus issue… but how do you get under your toenail without any pain or discomfort?
Bellevue Podiatry's Response to Toenail Fungus: Introducing Clearanail in Melbourne
Many people are turning to home remedies and medications but these aren't the best treatment for every toenail fungus condition. To address this problem, Bellevue Podiatry has embraced a new medical solution that works fast on killing toenail fungus infections once and for all: Clearanail. 
It's a fast and effective toenail fungus treatment that gets to work directly on the affected area, getting under the safely and painlessly under the toenail so the fungicide can do its work. 
This revolutionary product treats both toenail fungus and fungal nail conditions on feet with no side effects. 
For those avoiding oral medications, such as popular Keravita Pro, due to potential side effects Clearanail may be a promising alternative. 
We wanted to provide a safe, effective and painless toenail fungus nail solution that was reasonably priced and typically only required one visit for the treatment to be applied.  After much research, and trial and error, we selected Clearanail as our primary toenail fungus nail treatment solution at Bellevue Podiatry.
The Role of Clearanail in Combatting Fungal Nail: An Examination of Feet Fungi
Fungal nail, or toenail fungus, is a common toenails problem that many people face. This toenails condition isn't just a health issue, it also affects the appearance of the feet and discoloration of the toenails. Conditions such as these require fast and effective treatment. Often, people try oral antifungal medication, home remedies, tea tree oils, and other products to treat this type of infection. 
However, there's no solid evidence that these toenail fungus treatments, such as nail fungus oral medication, will completely resolve the infection. Also, these toenail fungus medications and treatments have potential side effects. The solution? Clearanail's toenail fungus solution. This technical innovation is designed to combat toenail fungus instantly by getting to the fungal infection under the nail.
Clearanail uses a safe and effective over the counter fungicide to kill the toenail fungus infection under the toenails without harming your skin or side effects.  Toenail fungus infections under the nail aren't typically hard to kill, the issue is the toenail blocks any form of direct treatment getting to them.  This is the problem Clearanail solves.
How Clearanail Enhances Toenails Fungus Treatment with Controlled Micro-perforation
People often struggle with the problem of toenail fungus. This condition can harm both health and self-esteem, requiring immediate toenail fungus treatments. Some turn to common remedies like hydrogen peroxide, tea tree oil or baking soda, but they don't kill toenail fungus instantly. Clearanail's Nail Fungus and Fungal Solution changes everything. Its unprecedented approach employs controlled micro-perforation, dramatically enhancing the treatment's efficacy. 
This method lets an effective and safe fungicide seep into the nail, attacking the fungal infection directly – this allows the fungicide to work fast treating toenail. Even persisting conditions and infections can be treated more effectively once there is direct access to the fungal nail infection under the nail.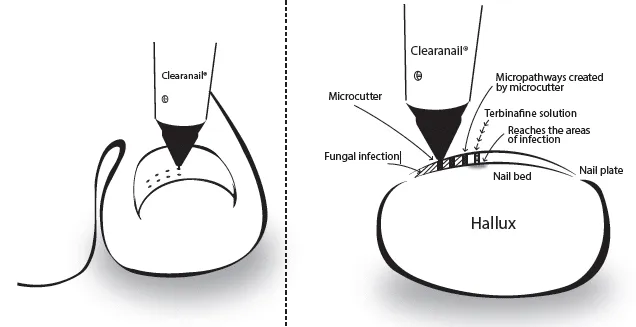 Distinguishing Clearanail from Other Nail Fungus Solutions Treating Toenail Fungal Infection
It's common to treat toenail fungus with oral antifungal medication, but Clearanail is a game-changer in foot care. It distinguishes itself from other nail fungus solutions for fungal toenails that treat the condition instantly, without any known side effects. 
Unlike home remedies like warm water with baking soda, tea tree oil or hydrogen peroxide that people typically first try, Clearanail works directly on the affected area, increasing effectiveness on the fungal nail. Also, there's no evidence of it deteriorating the skin around the toes just as some other medication might. We recommend this solution since it doesn't just treat the symptom but addresses the root cause of the infection. 
Clearanail: A Unique Fast-Acting Solution in the Fight Against Toenail Fungus
Fungal nail infections of the nail and foot fungus are usually caused by the same fungus that causes tinea.  Terbinafine has been shown to be highly effective in destroying fungal spores in cases of tinea.  Tinea is easier to treat as it lives on the skin surface, but in the case of nail fungus infections, it is much harder for the terbinafine to reach the infection under the nail.  
We know topical terbinafine works and is safe to use so it is the active agent used in Clearanail to kill toenail fungus instantly.  The only barrier to its effectiveness is the nail itself – this is the problem Clearanail solves by safely and painlessly getting through the nail and killing the toenail fungus underneath with a proven fungicide.
Once-off treatment: Depending on the number of treating toenail, only one appointment is required to drill holes.  The holes remain in the nail bed until the toenail grows out.
Safe: Some toenail fungus anti-fungal medications, such as Lamisil oral, can cause liver damage.  Drilling is localised, and Clearanail's advanced technology does not harm the soft tissue under the nail.
Cost-effective: The typical total cost for Clearanail toenail fungus treatment is only a fraction of other treatments such as laser therapy and PACT treatment and it usually only requires one visit.  Laser therapy for toenail fungus can cost well over $1,000 and require multiple visits – Clearanail on the other hand is only $295 for the complete toenail fungus treatment (plus consultation fee).  We do have the AfterPay payment option available for the Clearanail service. 
If you still have further toenail fungus queries please don't hesitate to read through our Clearanail FAQ page.  
Prepare for the next warm season by acting now so you can go barefoot with confidence!  Take the first step by calling us today on  (03) 9457 2336  or book online for our toenail fungus analysis appointment.  Get peace of mind Clearanail is right for you before having the treatment.