Bellevue Podiatry near Montmorency
8 Bellevue Ave, Rosanna 3084
NEW PATIENT SPECIAL OFFER:
Initial consultation – Includes initial assessment AND treatment ONLY $70*
Please note that due to current cost pressures we must increase the price of this offer after 3 Dec 2023

*When booking face-to-face or over the phone, you must mention code: NEW70
* If you book online, please ensure you mention code NEW70 to Reception when you arrive for your appointment.
we are located near Montmorency
Podiatrists to TREAT YOUR feet & ankles and RECOVER their HEALTH
What do you do when you have foot, ankle and lower limb issues that just won't go away?  For many of us, the answer is to leave it and hope that it fixes itself – but in our increasingly busy world where we are always running around on our feet all day, this rarely works out in our favour.
provding Podiatry Montmorency area
Montmorency Podiatry Services In Rosanna
Podiatry CLINIC NEAR Montmorency VIC
At Bellevue Podiatry, we treat patients throughout the North East Melbourne metro areas including Montmorency at our nearby Rosanna practice because we know just how much that foot & ankle health issues can affect your overall well-being.
Get in touch with us today to book your first appointment with one of our friendly and experienced Podiatrists located near Montmorency.
HOW CAN OUR Podiatry clinic HELP YOU?
Your feet, ankles and lower limbs typically handle a lot of stress in your day to day hussle and bussle, and sometimes that stress can cause damage over time.  Pain and discomfort shouldn't be a part of your every day, which is why we offer tailored treatments for all your lower limb health concerns.
Click the headings below to learn more about each Podiatrist service we provide.
New patient special offer: initial consult includes assessment and treatment.
Only $70 – quote code NEW70
Achilles tendonitis, also known as achilles tendinitis, is a common condition that causes pain, injury and inflammation in the Achilles tendon. The Achilles tendon is the largest tendon in the body, connecting the calf muscles to the heel bone. When the tendon becomes irritated or inflamed, it can cause the condition achilles tendonitis. This condition can be quite painful and may result in swelling, tenderness, and stiffness of the tendon – and in serious cases surgery may be required. The achilles tendon pain and swelling is usually felt at the back of the heel or ankle, and it might worsen when walking, running, or climbing stairs.
When discussing bunions, it's essential to understand the symptoms, causes, and role of footwear in bunion development. A bunion, also referred to as hallux valgus, is a bump that forms on the joint at the base of the big toe. It occurs when pressure from the metatarsal bone shifts towards the inside of the foot, causing the big toe to point towards the other toes. 
Common issues of bunions include pain, inflammation, and redness around the toe joint. In severe cases, the skin may also become hardened, and the affected toe joint could develop arthritis.
Understanding the medical condition of heel pain, particularly caused by plantar fasciitis, is essential for finding effective solutions. The calcaneus, or the heel bone, connects with the tibialis muscle, which contributes to various pain issues. Inflammation is a common culprit for musculoskeletal soreness, and finding the right treatment is crucial for relief (e.g. orthotics, shockwave therapy, manual exercises, etc). Plantar fascia pain, along with Achilles tendinitis, ranks as one of the popular topics discussed by experts.
An ingrown toenail is a common foot care problem that many people face. It's important to recognise the symptoms, understand the condition, and know when it's time to consult an experienced Podiatrist. Ingrown toenails occur when the edge of the toe nail grows into the skin surrounding the toe, causing pain, swelling, and sometimes infection. 
Fortunately, there are several treatments for ingrown toenails that can help alleviate the problem and get you back on your feet that our Podiatrists are experienced with.
Nail infections, specifically fungal nail infections, affect many people. These infections occur when fungi, such as dermatophytes, yeasts, or molds, invade the nail plate, nail bed, or  surrounding skin. Fungal nail infection, also known as onychomycosis, primarily affect the toenail. However, they can occasionally affect the fingernails as well. 
Let's take a look at the symptoms and causes of toenail fungus and fungal nails, along with testing and treatment options.
A biomechanical assessment is an in-depth examination of how your foot and lower leg works and how this may be contributing to your pain or discomfort when you walk, run or exercise.  
An accurate biomechnical assessment is crucial in identifying the root cause of your issue so an effective and tailored treatment plan can be put in place to get you moving pain free again.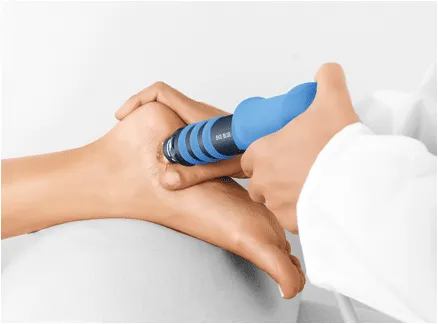 Have you unsuccessfully tried a number of traditional treatments such as manual therapies, orthotics or medications for your heel spurs, tendinitis or plantar fasciitis?  Or is your aliment so chronic that surgery has been recommended to you by a health professional?
Before you make any decisions, we recommend you investigate the benefits of Shockwave therapy as an effective and non-invasive alternative to traditional treatments and surgery for your tendon, muscle or joint condition.
KeryFlex Nail Restoration is a painless, in-clinic application that restores the appearance of an individual's natural nails.  This podiatrist service allows for a certified provider (i.e. Bellevue Podiatry) to remodel an individual's damaged nails affected by fungus, defects or trauma.  
The composite resin creates a flexible, but durable, non-porous nail that allows the remaining natural nail to grow.  The KeryFlex nail is an immediate cosmetic improvement providing a natural-looking nail. It is unaffected by acetone, nail polishes or detergents.

Early recognition of potentially serious foot health issues gives you the best chance of curing them before they become a serious problem – the earlier you find them, the better.  You should book in and see an experienced Podiatrist if you have diabetes because:
Diabetes can lead to nerve damage and loss of sensation

You can develop foot deformities

There can be changes to your arteries leading to decreased blood supply
At Bellevue Podiatry we have advanced assessment equipment to determine if you have had any of these changes.  Our podiatrists are experienced in the assessment, management, education and prevention of diabetes related foot and ankle pathologies.  
new patient special offer: initial consult includes assessment and treatment.
Only $70 – quote code NEW70
REQUEST A SESSION WITH OUR podiatrists IN THE Montmorency AREA
Our clinic is located in Rosanna, which makes it easily accessible for clients in surrounding suburbs in the North East metro area such as Montmorency VIC.  Lead by a team of experienced and friendly podiatrist professionals, our service is second to none and we take pride in our ability to offer leading treatments for each of our valued clients from Montmorency.  
As a reputable podiatry clinic treating many patients from Montmorency VIC, we are proud to be helping locals feel their best and achieve a high quality of living.  Book your first podiatry appointment today and get your feet and ankles healthy and moving pain-free again.
Montmorency Residents, TIRED OF lower limb health issues hold you back?
CALL US TODAY ON (03) 9457 2336 OR BOOK ONLINE TO ORGANISE YOUR FIRST APPOINTMENT WITH A MEMBER OF OUR TEAM.
Serving the people of Montmorency
At our neighbourhood practice in Rosanna, Bellevue Podiatry clinic provides quality podiatry to patients throughout Melbourne's North East Suburbs such as Montmorency VIC.
Montmorency VIC patients are welcome, and we strive to give you the best care, service and treatment available so you maintain a high quality of life.
Also, we offer podiatry services, advice and treatment for heel pain, ingrown toenails, fungal nails, general nail care and much more to our patients from Montmorency VIC at our local practice.